The magic of the Algonquin Prospector comes from the integrated keel, built into it's streamlined hull. For us this combination delivers copious amounts of capacity and a very wide useable load range while maintaining it's stable sure footed feel on the water.

The solid, secure feeling, versatility, and efficient hull, have made our Algonquin Prospector series of canoes our most popular and requested line of canoes for over 30 years, and a must for you & your family.
SPECIFICATIONS – ALGONQUIN PROSPECTOR
                 Available sizes 14′ 15′ 16′.6″
| | | | | |
| --- | --- | --- | --- | --- |
| LENGTH | CENTER BEAM | DEPTH | BOW HEIGHT | STERN HEIGHT |
| 14′ | 37" OUTSIDE | 13.75 | 22 | 22 |
| 15′ | 37′ OUTSIDE | 13.75 | 22 | 22 |
| 16.6′ | 37′ OUTSIDE | 13.75 | 22 | 22 |
 
16′.6″ ALGONQUIN PROSPECTOR
WEIGHT
MAX CAPACITY
SIZE 16′.6″
FIBREGLASS
74 LBS
1100 LBS
ULTRA-GLASS
64 LBS
KEVLAR®
52 LBS
 
15′ ALGONQUIN PROSPECTOR
WEIGHT
MAX CAPACITY
SIZE 15′
FIBREGLASS
70 LBS
890 LBS
ULTRA-GLASS
60 LBS
KEVLAR®
50 LBS
 
14′ ALGONQUIN PROSPECTOR
WEIGHT
MAX CAPACITY
SIZE 14′
FIBREGLASS
66 LBS
725 LBS
ULTRA-GLASS
56 LBS
KEVLAR®
44 LBS
Regular Prices $CAD
Ultra-Glass
 16′.6″
 $1477.00
 15′
$1349.00
 14′
$1249.00
Kevlar®
 16′.6″
 $2377.00
 15′
 $2180.00
 14′
 $1980.00
Weights and specifications based on standard trim
– Optional equipment may alter specs.
Weights are based on average weights and are subject
Key features
Very Stable
Excellent Tracking
High load capacity
Integrated keel
Versatile hull design
Ability to handle windy conditions, choppy water
Child / Pet friendly
Ideal Application
Large lakes / Flat water
Mild to moderate moving water
Tripping / Camping
Family recreational paddling
Paddling with small children, pets, new or novice paddlers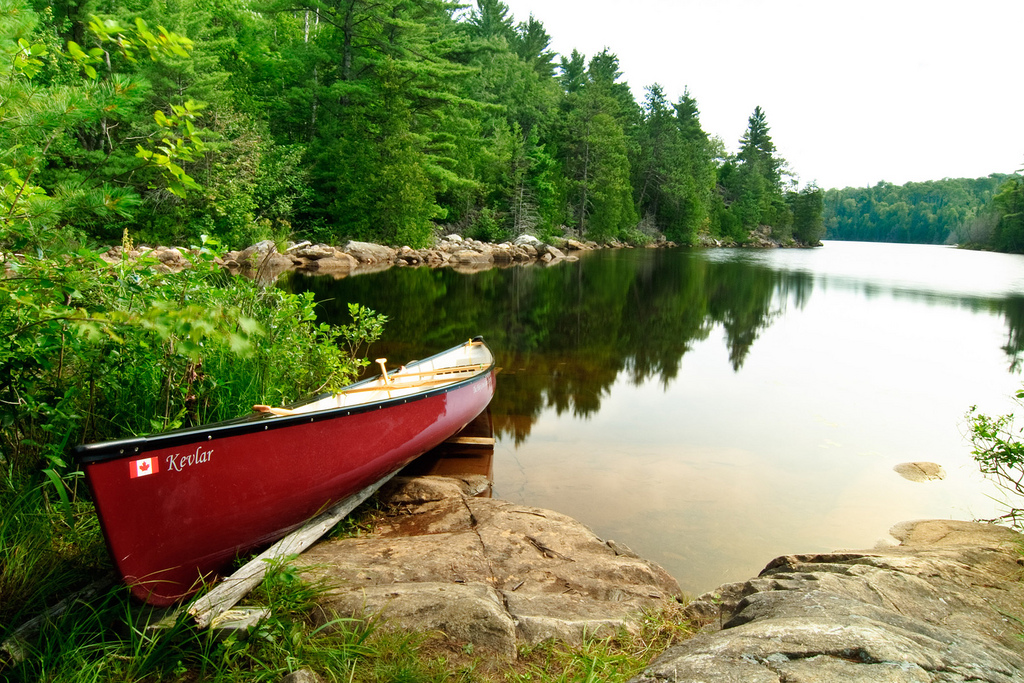 Considered by many to be the most popular design of all time, the Original Prospector Canoes, built by the Chestnut Canoe Company, date years back to when the original fur traders still traveled great distances in order to deliver their wares to the Hudson's Bay Company.
So legendary was this design that even today many canoe companies offer a Prospector model. This being said most all "Prospector" canoes will vary to a certain degree from the original and in-turn with each other as the function of certain elements of the original design continue to be a topic of debate and interpretation to this day. The one thing that is not debatable however was the overall intended purpose behind the Prospector design, which was for a versatile, stable canoe that was capable of handling large loads along with a variety of conditions.
Born in keeping with this spirit is the "Algonquin Prospector" canoe.

 Whether solo, tandem, or loaded with the entire family, dog and gear. Our Algonquin Prospector series display outstanding behaviour, and the type of strong, calm confidence that only many years of history and tradition can provide. 

Designed to be the ultimate canoe for versatility and safety, along with an ideal paddling craft for a wide range of skill levels.
The Algonquin Prospector provides exceptional performance particularly on lakes and in mild to moderate moving waters.

The Algonquin Prospector series is an ideal choice for novice paddlers & experienced trippers who are seeking a stable, safe, & solid paddling craft, that will also remain efficient and easy to paddle in a wide variety of applications and water conditions.
Colour Choices
1. Midnight Blue
2. Canary Yellow
3. Canada red
4. Forest Green
5. Autumn Green
6. Chocolate Milk (Moo!)
7. Oxblood
8. Almond
9. Robins' egg Blue
Independent Review on Paddling.net website
"I purchased this canoe in 2010 and have used it on three 8-10 day canoe trips into Quetico. It is a dream to portage and is easy to maneuver for fishing. It handles big waves and big water very well also. Durability? The test of time will be its proof. So far so good. I had a MN II before this. The Prospector is way easier to paddle and maneuver. It is also much roomier in the bow for the front man. No regrets on buying this canoe."
"Just bought a Holy Cow 15′ kevlar from eBay, local pick up from the workshop. Very happy with the purchase. The canoe looks gorgeous. Gulam and staff were very friendly, straightforward and willing to help. They were very confident and proud of their craft. The product and service are super. Highly recommended."